From Amboseli, my driver and I made our way via Nairobi towards Lake Nakuru National Park, a small but beautiful reserve located in the heart of Kenya's Rift Valley.
The journey was long, but the stunning views of the Kenyan countryside and the promise of exploring a new wildlife reserve made it all worth it. Unfortunately, my stay at the Flamingo Tented Hill Camp was a major letdown due to the incompetent and dishonest manager. Needless to say, I will not be returning to this lodge again.
But my disappointment was short-lived, as the park itself more than made up for the negative experience at the lodge. Lake Nakuru National Park is a small but beautiful reserve nestled in the heart of Kenya's Rift Valley. It boasts a diverse landscape that includes the eponymous lake, rocky raised ridges, seasonal rivers, and the lesser-known Makalia Falls. As someone who is passionate about birdwatching, I was thrilled to see pelicans and even some flamingos up close.
 But what really stole the show were the wildlife sightings. Despite the fact that the pink flamingos that once made the park famous have mostly relocated to other areas, the park is still home to an impressive array of animals, including giraffes, buffalos, baboons, and even lions and the elusive leopard.
As the park is so small it's easily discovered on a one-day safari. Your guide can take you to the park's most scenic spots and wildlife hotspots, such as Baboon Cliff, where you'll have panoramic views of the lake and its surroundings. Then you'll head to the Makalia Fall, where you'll have a chance to see some of the park's wildlife up close, including baboons and waterbucks.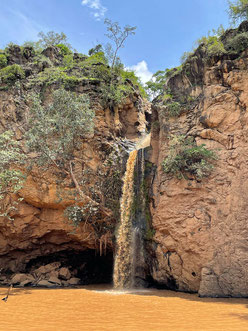 The quite small Makalia Fall is located at the southern end of Lake Nakuru National Park, and it's fed by the Makalia River which rises in the Mau Forest. Although the river is seasonal, it's still one of the main sources of water for Lake Nakuru. We visited during the dry season, which was perfect for game viewing. The wet months from November to December and March to April are said to be the best for experiencing the fall in all its glory, with the water levels high but I was already to happy to see it as it was.
The fall pours into a large dive water pool at a height of 10m off a cliff and the surrounding bushy savannah vegetation and trees give a very scenic background.
We had decided to have a picnic there and were pleasantly surprised to find public restrooms nearby.
Beyond wildlife, Lake Nakuru National Park also has a rich conservation history as a rhino sanctuary. It's home to over 70 black rhinos and 30 white rhinos, making it one of the best places in Kenya to see these magnificent animals up close.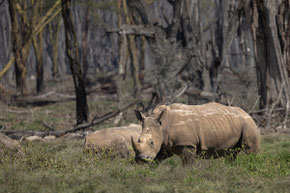 Despite recent challenges caused by heavy flooding, the park continues to be a must-visit destination for wildlife enthusiasts and nature lovers alike. With its convenient location just a few hours' drive from Nairobi, Lake Nakuru is the perfect destination for a day trip or a weekend getaway. Trust me, the stunning scenery and unforgettable wildlife sightings will make your trip to Nakuru a memorable one.
---
Text and images are my copyrighted intellectual property.
You are required to have prior permission to use, borrow, or display any photograph or text from this site.