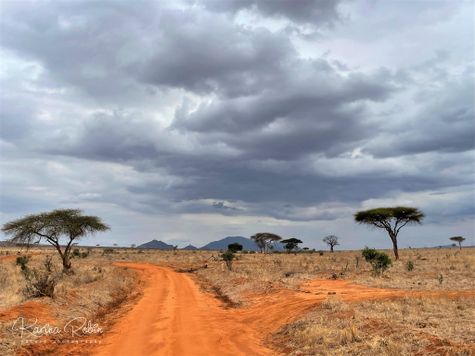 Tsavo is quite a long drive from Nairobi on the Nairobi-Mombasa Highway.
But it's well worth the drive as it is such a special park: with its red soil, dramatic skies and the sparse and the 'oh so African' vegetation! It's impossible not to fall in love with this park.
Already the first afternoon was great, with a pride of some lionesses and subadult cubs as well as a male feeding on a zebra carcass.
The next day we had a full programme. We decided on a loop, covering Lugard's Falls, Mudanda Rock and then slowly meandering through the park back to the lodge.
We started the day by paying a visit to the male lion with the carcass. On our way we passed a male ostrich. Suddenly I had the weird feeling something was going to happen. I asked my guide drive back to have another look at the ostrich. And right I was! He was on his way to the lady of his heart, displaying to her – and to us – beautifully. We were so lucky to see the full programme, him dancing and presenting his beautiful wings, her playing the shy one, turning away and then back to him. We felt like having front row seats to the whole show! At the end she finally gave in to his courtship. Let's hope that in 20 to 30 days new little ostrich chicks are running on Tsavo's savannah. My guide was impressed, as even he hadn't seen the whole story of ostrich courtship and mating very often.
I was to hear this quite often on our trip – we were absolutely blessed with many extraordinary sightings!
When we arrived at the lion's camp site, we saw several black-backed jackals eagerly waiting for their breakfast. I love those cheeky little guys! Whilst observing the jackals through my binoculars I suddenly saw a form much too big for a jackal, hunched like the often-seen spotted hyena, but the tail and fur looked totally different to me. It was another very rare sighting we had: a striped hyena! My guide had seen one in years. Again, lucky us – two great sightings within an hour.
A quick look at the still sleepy lion and we then started our journey to Lugard's Falls, one of the few places in the park where you can alight from your vehicle and stretch your legs. These impressive white-water rapids are formed by the force of the Galana river passing through volcanic rock. They were named after Fredrick Lugard, a British colonial administrator (1858-1945). 
Next stop was Mudanda Rock, another well-known landmark in Tsavo East. This inselberg is 1.6 km long consisting of stratified rock, dating back to the Precambrian era. My guide told me it had served as a lookout point and was used to dry strips of meat, like prehistoric biltong. From its top you have a great view all over the park. We had our picnic lunch at this great place.
Tsavo East is known for its many red elephants – coloured from the red dust they use as skin care. During the afternoon we saw many herds. The highlight, however, were two young play-fighting bulls. They were having lots of fun, attacking and chasing each other around the waterhole. I must admit that I was having lots of fun as well, observing their antics!
On our last leg back to camp we heard over the radio of a lion sighting, quite a distance from the direction we were heading to. We rather decided to slowly return to the lodge, already overflowing with amazing encounters.
Little did we know that the best was yet to come!
Shortly before I went to Kenya, I heard from a friend of a black serval in Amboseli. As I planned to stay four nights in that park, I had high expectations to be lucky (okay, maybe I was a bit naive). Seeing a serval is always a rare and beautiful surprise on safari but seeing one of the very few black servals is like winning the lotto.
So, as said, we were on our way back to the lodge when suddenly my guide saw something black, a tree stump as he thought. But no, it was a serval – a black serval! A serval so rare that even the rangers ask for information on any sighting, if ever anybody was lucky enough. It had just been seen for the first and only time about 2 weeks before our encounter!
It was quite a distance from the road, the light was not the best but at least we were lucky to spend about 20 minutes with it. And we were the only ones – everybody else had opted to see the lions far away.
Tsavo East definitely was a fruitful start into my two-week safari.
---
Text and images are my copyrighted intellectual property.
You are required to have prior permission to use, borrow, or display any photograph or text from this site.