When we decided to visit the Pantanal, we knew that we wanted to see jaguars - one of the region's most elusive and impressive predators. Therefore we concentrated on the northern part of the Pantanal, the Mato Grosso, as it seems to be the best bet for spotting these awesome cats.
When we arrived iin Porto Jofre, a settlement rather than a village, our boat pilots were already waiting for us and we couldn't wait to explore the region's rivers and waterways. We spent the next week on the small ship AGUAPÉ, which was anchored near the entrance to the Parque Nacional do Pantanal Matogrossense. From there, we set out on daily excursions to explore the Pantanal's waterways and forests. Being so close to the entrance and not having to make every morning and afternoon the return trips to Porto Jofre, where most visitors stayed, we gained about two hours per day. Plus we got to see the most amazing sunsets on our way back home.
Over the course of the week, we saw countless incredible animals, from giant otters hunting for fish to flocks of birds soaring overhead. We also met some awesome people, including our knowledgeable and passionate guides and some friendly locals who call the Pantanal home. 
source: https://www.hot-map.com/de/pantanal              https://pantanalpathfinder.com/tour-item/the-aguape-boat-hotel/
---
On our very first outing we were already so lucky to see giant otters, jacarés, capybaras and of course a jaguar! We had so hoped to see one on our trip but to see it on the very first excursion was unbelievable. From then on we saw jaguars on each and every boat trip we did. And over the course of the week, we saw countless other incredible animals, from giant otters hunting for fish and playing to cute swimming or grazing capybaras, as well as sunbathing jacarés caimans and shy howler monkeys.
Every evening upon returning to the Aguapé, we had the most beautiful sunsets!
The Pantanal is also a birdwatcher's paradise, home to over 650 species of birds. During our visit, we had the pleasure of spotting some incredible species, including kingfishers, vultures, cormorants, jacanas, macaws, anhingas, jacamars, herons, black skimmers, and tyrants.
Unfortunately, we also saw lots of tourists, some of them forgetting all manners once their guides had spotted a jaguar. But on the other hand, the tourists save the Pantanal. Without visitors, probably little to no effort would be put into conservation.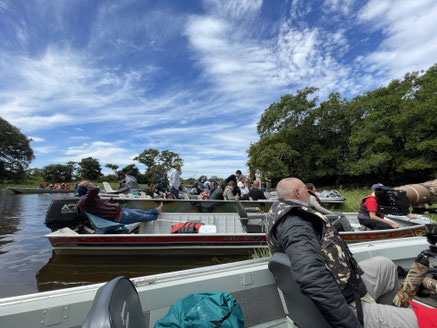 ---
Text and images are my copyrighted intellectual property.
You are required to have prior permission to use, borrow, or display any photograph or text from this site.