You've heard of the Pantanal, right? Whatever your answer is - keep reading! Either the following evokes sweet memories, or might even want you to get there as fast as possible. Who knows ?
I can assure you, if you're looking for an immersive adventurous wildlife experience in Brazil, then a visit to the Pantanal is a must. This vast wetland region, located in western Brazil, is home to an incredible array of wildlife, including jaguars, giant otters, anacondas, and capybaras. And if you, like us, do a 'boat safari' in the Mato Grosso, you more then likely will see all of them!
But let's start at the beginning.
After our stay in the Mata Atlântica we made our way towards the Pantanal. Our journey began with a flight from São Paulo to Cuiabá, the capital of Mato Grosso state. From there, we traveled along the famous Transpantaneira Highway, a 140km stretch of dirt road linking Poconé to Porto Jofre, winding its way through the wetlands and connecting several lodges and wildlife viewing areas. In case you need to stretch your legs on the way to Porto Jofre you can stop at kilometer 48, the Hotel Pantanal Mato Grosso. There's even a cute resident cat and an  entertaining Jabirú stork.
The journey on the Transpantaneira can be slow due to the road being unpaved, rough, and pot-holed. It's crucial to be cautious when crossing some of the bridges on the Transpantaneira as they may be in poor condition. It can be nerveracking to cross them, and you may even need to manually adjust wooden planks under your car tyres. 
On our drive on the Transpantaneira we suddenly heard the unbelievable sound of very loud music and announcements over a microphone, we saw an arena and paddocks, a lot of horses as well as many pantaneiros (as all residents of the Pantanal are called but specifically the local cowboys). Of course we had to stop and take a stroll around the paddocks and the grandstand. It was a Rodeo, well attended by the local community!. We were met with smiles from everybody but especially the little boys doing their best to rein in some straw cows.
The Pantanal is one of the best places in the world for birdwatching, with over 650 bird species recorded in the region.
The Transpantaneira was for the us the best place to see the huge Jabirú, a giant bird with a wingspan of up to 2 meters, making it one of the largest flying birds in the Americas. And we saw a Great Potoo! Typically, this bird rests on a tree stump during daylight hours, and often goes unnoticed due to its ability to blend in with the stump.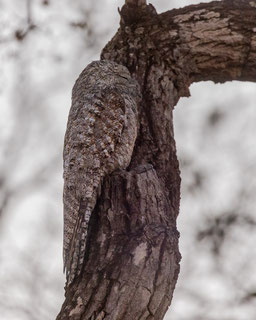 On our way to Porto Jofre, we overnighted at the Pousada Pouso Alegre, a rustic historic eco-lodge in the heart of the Pantanal, located at kilometer 33 of the Transpantaneira. Originally built as a cattle farm, it has been fully converted into a lodge with a few cows remaining as a nod to its past. The rooms are simple, clean, and functional, with AC, Wi-Fi, and hot showers (including the locally customary frogs). There's a buffet-style restaurant with simple and fresh food, however not a culinary highlight. But anyway, do not expect to be served gourmet food anywhere in the Pantanal. But hey, that's not why we are here, right?
As the real draw of Pouso Alegre is the incredible nature surrounding it. The reserve is one of the best-preserved natural areas along the Transpantaneira road, with a fantastic array of wildlife including tapirs, anteaters, monkeys, capybaras, caimans, and a stunning variety of birds.The lodge offers tours led by knowledgeable local guides, who will provide you with information about the region's flora and fauna. 
A the lodge also has several bird feeders that attract a wide range of bird species, providing excellent photo opportunities we spent quite some time very early in the morning birdwatching. All in all, apart from bare-faced curassows, black-necked araçaris, yellow-rumped caciques, Toco toucans, rusty-margined flycatchers, grey-necked wood rails, cardinals, and emus, we were lucky enough to see a tapir mom with a baby, a couple of  crab-eating foxes and a coati, but missed out on the giant anteater. Seems a valuable reason to come back one day, no?
Our boat pilots were already waiting for us when we arrived, and we couldn't wait to explore the region's rivers and waterways. We spent the next week on the anchored boat Aguapé, which served as our "headquarters" for our twice-daily boat trips, exploring the region's rivers and waterways. 
---
Text and images are my copyrighted intellectual property.
You are required to have prior permission to use, borrow, or display any photograph or text from this site.