After taking in the special atmosphere of Hoi An we wanted to escape the city and went to visit Tra Que Vegetable Village, just outside Hoi An. Usually this is done as a combination of a bike tour to the beach and a cooking class in Tra Que.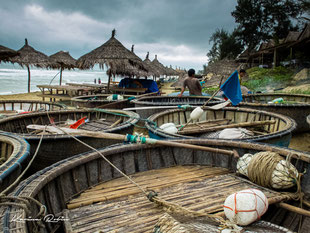 However, as it was raining cats and dogs, we decided to drop the bike ride and just went to see the fisherman and their traditional boats at An Bang beach.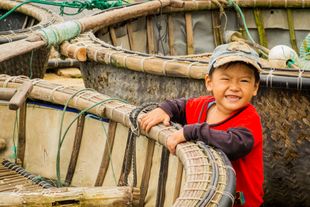 Then we went on to have a look at the vegetable gardens, full of lettuce, water spinach, cabbage, and aromatic herbs, such as coriander, lemon grass, mint, and Thai basil in rural setting of intense lush green colours. In total they grow more than 40 different produce which are very thought after for their special taste. This is due to the rich soil and the use of seaweed as fertilizer which is harvested every morning in the nearby lagoon.
The main building, made from bamboo, housed the open plan kitchen with cooking stations for all of us. Afterwards we were rewarded with a tasty lunch, prepared by ourselves!
A great day, we even forgot about the rain.