I couldn't believe it – my dream trip finally started! Off to Botswana for two weeks of safari.
I flew from Maun first to Tau Pan Lodge in the middle of the Central Kalahari Game Reserve. The plane was one of these little 4-seater tin cans. Flying so low for about an hour was really an adventure, you could see everything!
Tau Pan Lodge is a great place built on a ridge, nothing obstructing the wide views of the pan and the small waterhole below.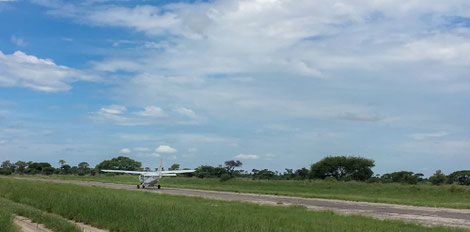 And when the night sky is clear star gazing is phenomenal: the Milky Way and the Southern Cross just above us, with no light pollution.
Game watching though was quite unspectacular: mainly oryx and wildebeest, some giraffe, red hartebeest, herds of springbok. Of course jackals and some bat-eared foxes. But the famous black-maned lions were very elusive. They were the main reason for my visit to this reserve but I only heard them (one night they called just in front of my bungalow!).
But on the last day we were so lucky and had two leopard sightings within an hour! One leopard in the CKGR is already incredible, but two, and then real posers! We basically stumbled over no. 1 - suddenly there she was:  a beautiful leopard in a tree, just next to the road - a photographer's dream !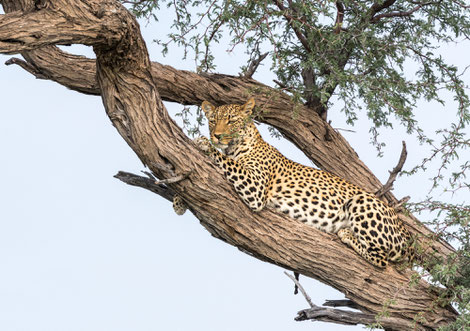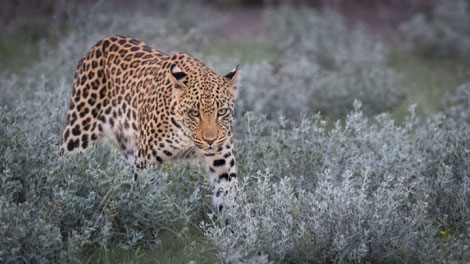 When she decided to leave us, 10 minutes later another leopard was called in! Down in the pan, not too far away. We found her on the ground, about 200 metres from the vehicle. First observing us for quite some time, she then made a straight line for us. Stopping, sometimes laying down for a moment she came directly towards us, ignoring the other 2 vehicles. She briefly posed on a tree: an absolute beauty. Then she left the tree to come even nearer, laying down about 20 metres away in the beautiful flowery grass. Magical moments!