From the Okavango Delta I took a short flight (20 minutes) to Linyanti. My stay at Lebala should turn out as the best of the whole trip!  Firstly, Lebala is an absolute stunning camp! Huge 'tented bungalows' fitted with whatever one could need in the bush – and so much more.
And then each and every game drive was a full success. I really loved each of the different landscapes of Botswana I had the chance to visit the Kalahari desert, Nxai Pan, the Okavango Delta. But nothing came up to the Linyanti area. Absolutely stunning! This Kwando concession consists of sweeping grassland, riverine forests and floodplains with a plethora of birdlife. And here I had the most amazing sunsets of my trip.
It's clear, I fell in love with that area and will take incredible memories home. Like the strong smell of wild basil and sage crushed under our truck's tyres, mating African kangaroos, and definitely the most wonderful leopard sighting I ever had.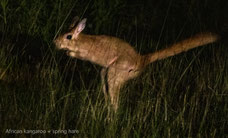 I'll never forget my first private game drive in Linyanti with my very knowledgeable field guide Bate. I ask for a 'birding' game drive. Sadly, that didn't work - we surely broke a record with two lion, one wild dog and one leopard (with cub!) sighting within 90 minutes from beginning to end!! It was absolutely insane!
30 minutes into the drive, we stumbled over a small lion pride, consisting of mum, two older siblings and a younger cub; another 30 minutes later we were called in to help another vehicle with some leopard tracking (found mum and young daughter almost immediately) and on our way back to our lions, suddenly had to stop in our tracks to let some wild dogs pass by on a hunt. Then about 500 metres further we found our lions walking along the road, one after the other.
As it is strictly forbidden to overtake the king of the jungle we made a wide circle to get past and await the family some hundred metres ahead. What a view - they made a bee-line straight towards us, then stopped to rest. The older siblings seized the opportunity to make a wild chase through one of the big puddles in the road. No time to adjust my shutter speed from 0 to 100 in a split second. But I love the pics nevertheless - a great souvenir of this precious moment!
Text and images are my copyrighted intellectual property.
You are required to have prior permission to use, borrow, or display any photograph or text from this site.