Are you ready for a once-in-a-lifetime safari adventure? Look no further than Amboseli National Park in Kenya, known for its vast savannahs, stunning vistas of Mount Kilimanjaro, and the incredible wildlife that call this place home, in particular, its lion and elephant populations.
As someone who has been fortunate enough to experience many safaris firsthand, I can tell you that it's an experience that you'll never forget. From the thrill of spotting a pride of lions lounging in the shade to the awe-inspiring sight of a herd of elephants moving across the savanna, every moment is unforgettable.
But what makes Amboseli so special, and why should you consider adding it to your travel bucket list? Let's take a closer look.
Lions of Amboseli
There are plenty of lions in Amboseli and with a bit of luck (and a good guide) you'll be treated to a glimpse into the life of one of Africa's most iconic predators. But be warned: lions are notoriously lazy creatures, and you might find them napping in the shade for much of the day. However, if you visit during the cooler months, with a bit of luck, you may see them hunting in the early morning or late afternoon.
I had some great lion sightings during my stay, a coalition of two brothers feasting on a zebra kill, a family with several cubs and as a special treat, I got an audience with the lion king! The world's oldest lion lives in Amboseli, and I was treated to one of my best and most funny lion sightings ever (see my post "A Rare and Memorable Experience: Meeting Loonkito, the Living Legend of the African Savanna").
Elephants of Amboseli
The elephants of Amboseli are another major draw for visitors. This park is home to large elephant herds, and the animals here are known for their impressive tusks and gentle nature. They have a daily routine of walking from the woodlands to the swamps and back, creating a great opportunity for observing and photographing them. As Amboseli is an arid region, the elephants often kick up dust, resulting in atmospheric photos and stunning views. But what makes the elephants of Amboseli truly unique is their relationship with the Maasai people who live nearby. For centuries, the Maasai have lived alongside these massive creatures, and they have developed a deep respect and understanding for them.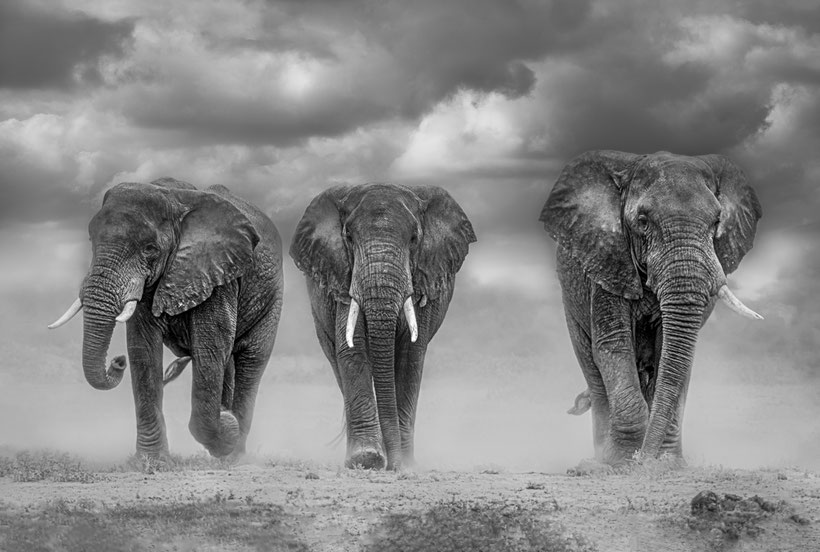 Planning your Safari
If you're interested in experiencing the lions and elephants of Amboseli for yourself, there are a few things you'll need to know. First and foremost, you'll need to choose a reputable tour operator who can provide you with a safe and enjoyable safari experience. Look for a company that has a good reputation and a commitment to conservation. I had my own Kenya trip organized by personal travel agent and African safari specialist Rare Encounters, whose founder also runs her own wildlife conservation charity, Wild & Free – Rehabilitation and Release.
When it comes to choosing the best time to visit Amboseli, there are a few things to keep in mind. The park is busiest during the dry season (June to October), when wildlife is concentrated around water sources. However, this is also the busiest time of year for tourists, so expect larger crowds and higher prices. If you're looking for a quieter, more affordable option, consider visiting during the shoulder seasons (January to March or November to December, except the Christmas season), when the park is less crowded but still offers excellent wildlife viewing opportunities.
In terms of accommodations, Amboseli offers a range of options to suit every budget and preference. From luxury lodges to basic campsites, there's something for everyone. Keep in mind that some lodges and campsites are located within the park itself, while others are just outside the park boundaries. If you're looking for a more immersive experience, consider staying inside the park, where you'll be surrounded by wildlife day and night.
I stayed at Ol Tukai Lodge during my Amboseli safari adventure, and I must say, it was a fantastic experience(see blog post "Ol Tukai Lodge: Where Luxury Meets Wildlife Adventure".
It's important to remember that Amboseli is a fragile ecosystem that requires our protection. When visiting the park, be sure to follow the rules and regulations set forth by the authorities, such as staying on designated roads and keeping a safe distance from wildlife. Additionally, as mentioned before consider choosing a tour operator that has a commitment to sustainable tourism and conservation efforts.
In conclusion, an Amboseli safari is a once-in-a-lifetime experience that should be on every nature lover's bucket list. From lions to elephants, this park offers some of the most impressive wildlife viewing opportunities in Africa. Whether you're a seasoned safari-goer or a first-time visitor, Amboseli is sure to leave a lasting impression on you.
So pack your bags, grab your camera, and get ready for the adventure of a lifetime!